This post may contain affiliate links, which means we may receive a commission if you purchase through our links. Please read our full disclosure here.
This post will show you cute outfit ideas for teens in 2023, with clothing under $100.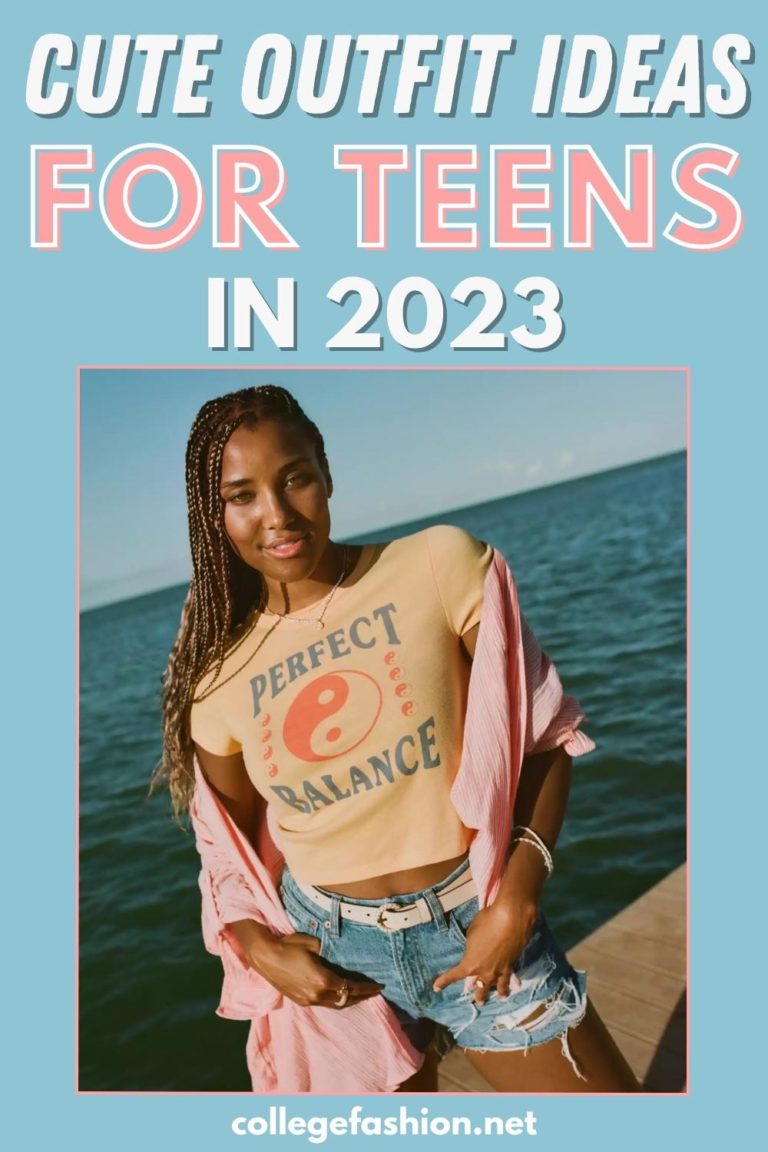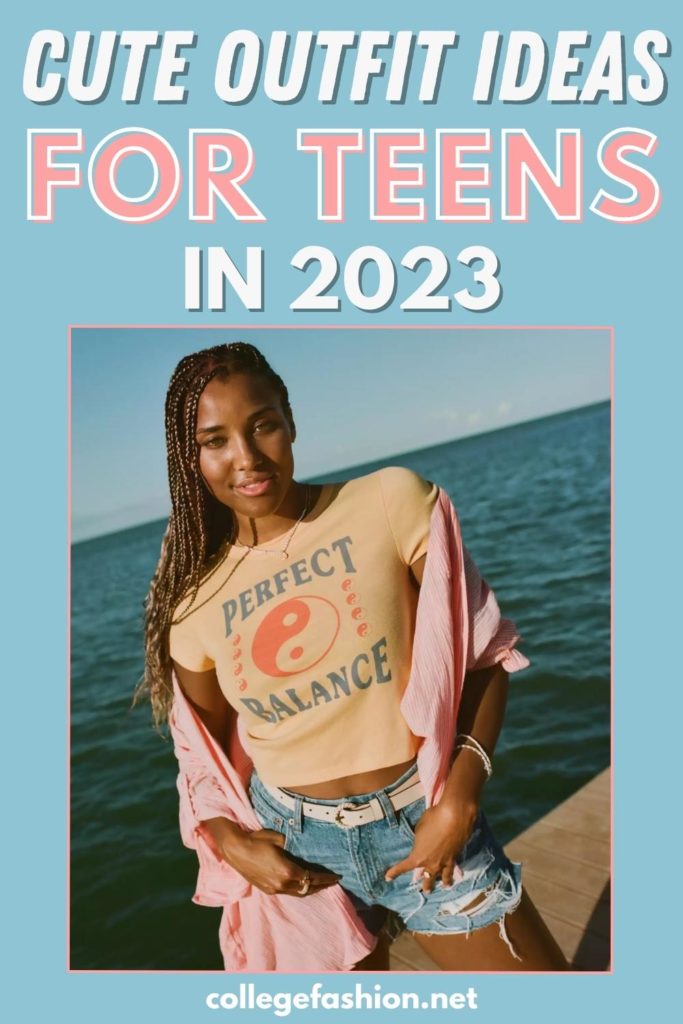 Are you in need of some outfit inspiration?
Everyone gets into a rut sometimes, when it feels like you have absolutely nothing to wear. That's why I've come up with 16 outfit ideas that you can wear in school, in the spring, in the summer, and in the early fall. Basically, every occasion for the upcoming months!
From casual to cute and everything in between, you can shop these looks or try to recreate them with items from your own closet. Everything featured is affordable and totally on-trend.
So without further ado, read on for 16 outfit ideas for school, spring, summer, and early fall.
Casual Outfit Ideas for School
We all know the struggle of waking up before school and having no idea what to wear – cue the early-morning fashion meltdown!
Instead of throwing on mismatched sweats or leggings, though, try some of these casual outfit ideas that you can quickly pull together. They are school-friendly and you can wear them in multiple seasons throughout the year.
Sweatshirts, Cargo Pants & Sneakers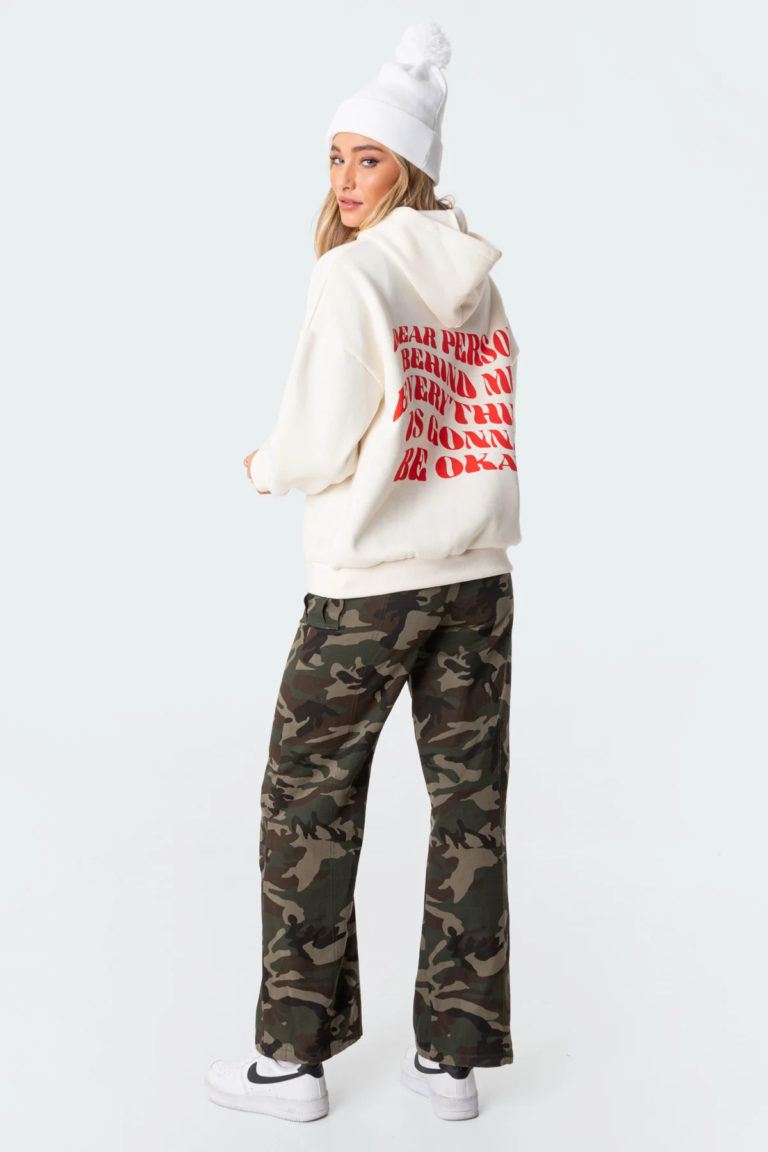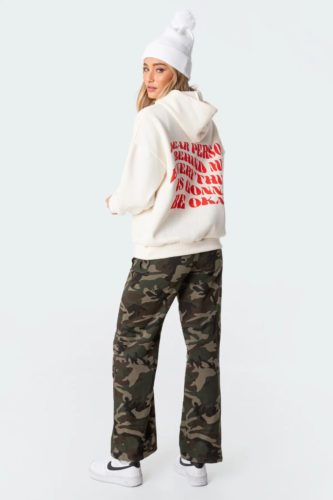 When it comes to getting dressed for school, you'll want to be comfy while also keeping your school's dress code in mind—two things you won't have to worry about with this laid-back look.
Baggy, oversized clothing is totally on-trend right now, so throw on a cool (and comfy) graphic print sweatshirt with some relaxed-fitting cargo pants for a full day of classes, along with your favorite sneakers.
This easy outfit combo looks cool in a super effortless way, especially with a beanie hat during the colder seasons.
Wide-Leg Jeans and Sweater Vest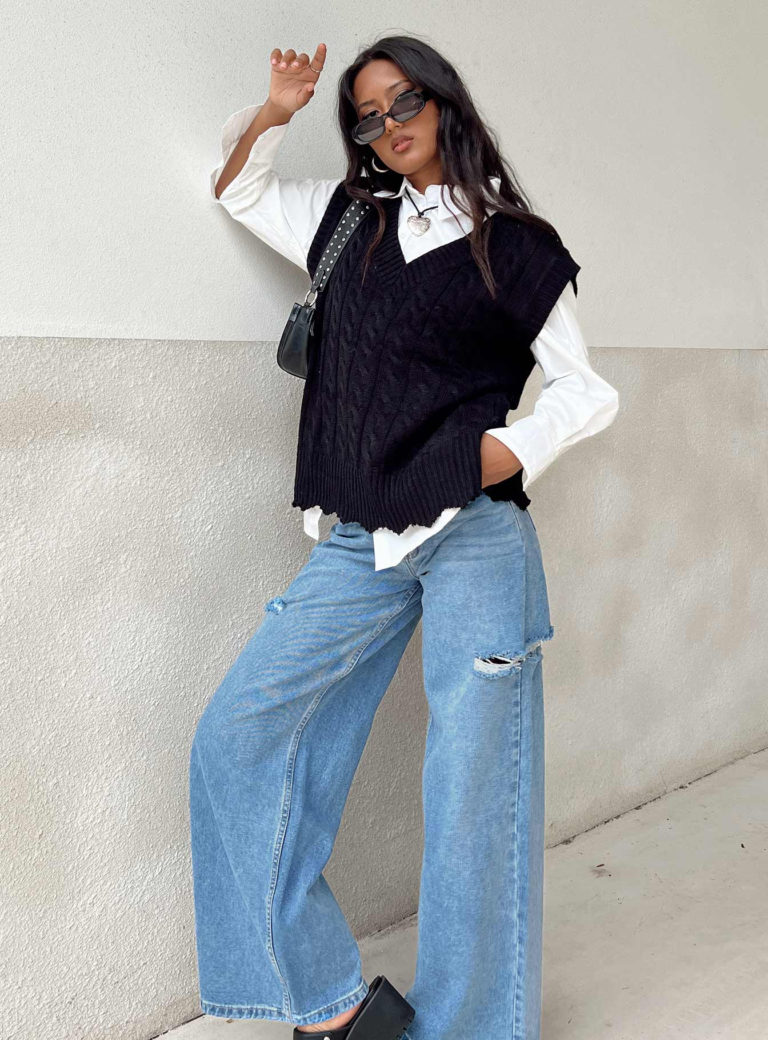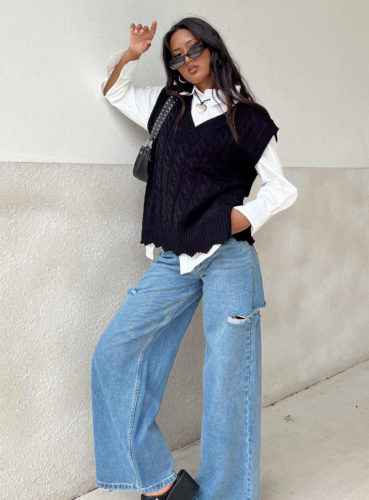 Sweater vests give off major academia vibesso embrace the aesthetic while keeping it casual with some on-trend wide-leg jeans.
You can wear the sweater vest alone or layered over a white button-down shirt for a classic look—the wide-leg jeans will make this pairing look modern and fashion-forward.
As for shoes, go for some chunky loafers, combat boots, or sneakers.
Cargo Maxi Skirt, Crewneck Top & Sneakers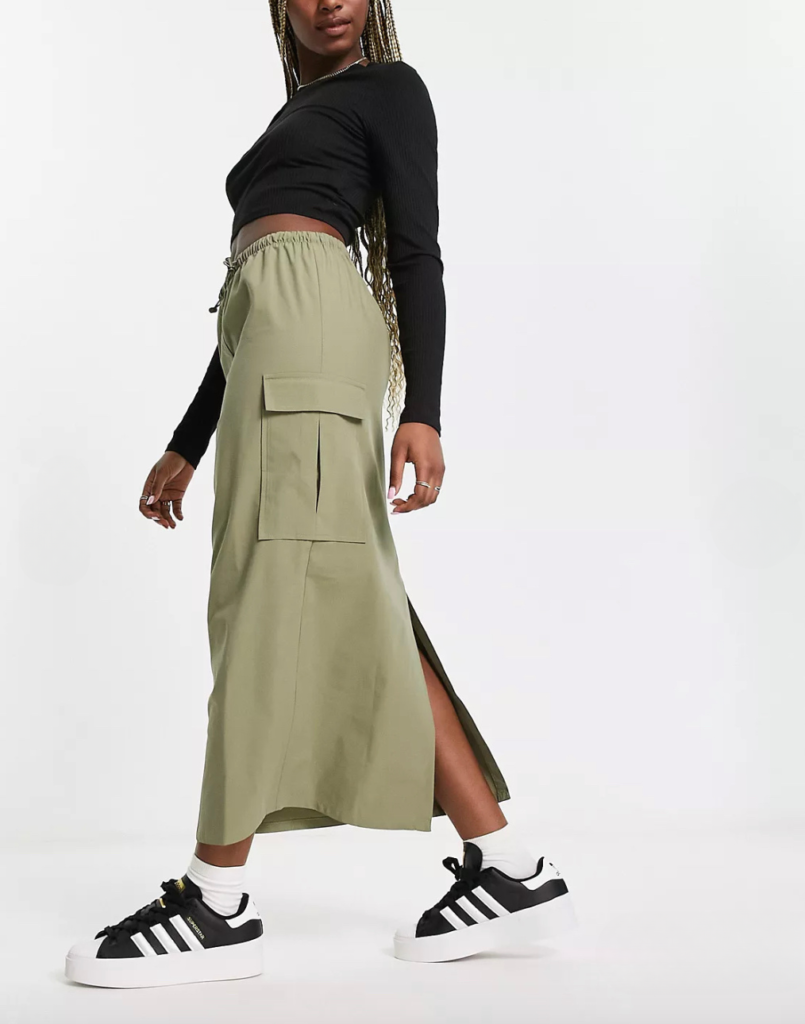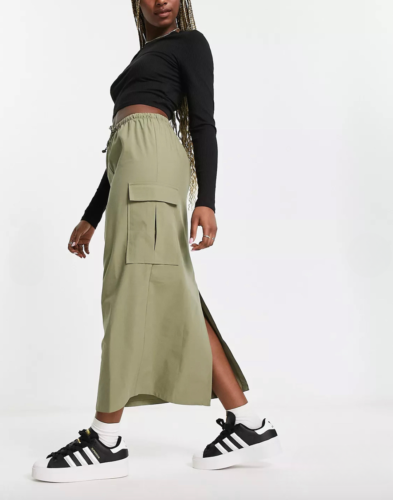 Just as cargo pants are very in style right now, so are cargo skirts.
A maxi-length cargo skirt is perfect for school since you won't run into dress code issues with its long length, and its roomy fit is actually comfortable for sitting through classes all day. And, of course, it looks cool and has oversized pockets, which is always a plus!
There are a bunch of ways to style a cargo maxi skirt, but you can't go wrong with a simple, effortless approach: wear it with a crewneck t-shirt or long-sleeve top and some casual sneakers. This outfit is on-trend but surprisingly functional!
Graphic Print T-Shirts, Corduroy Pants & Sneakers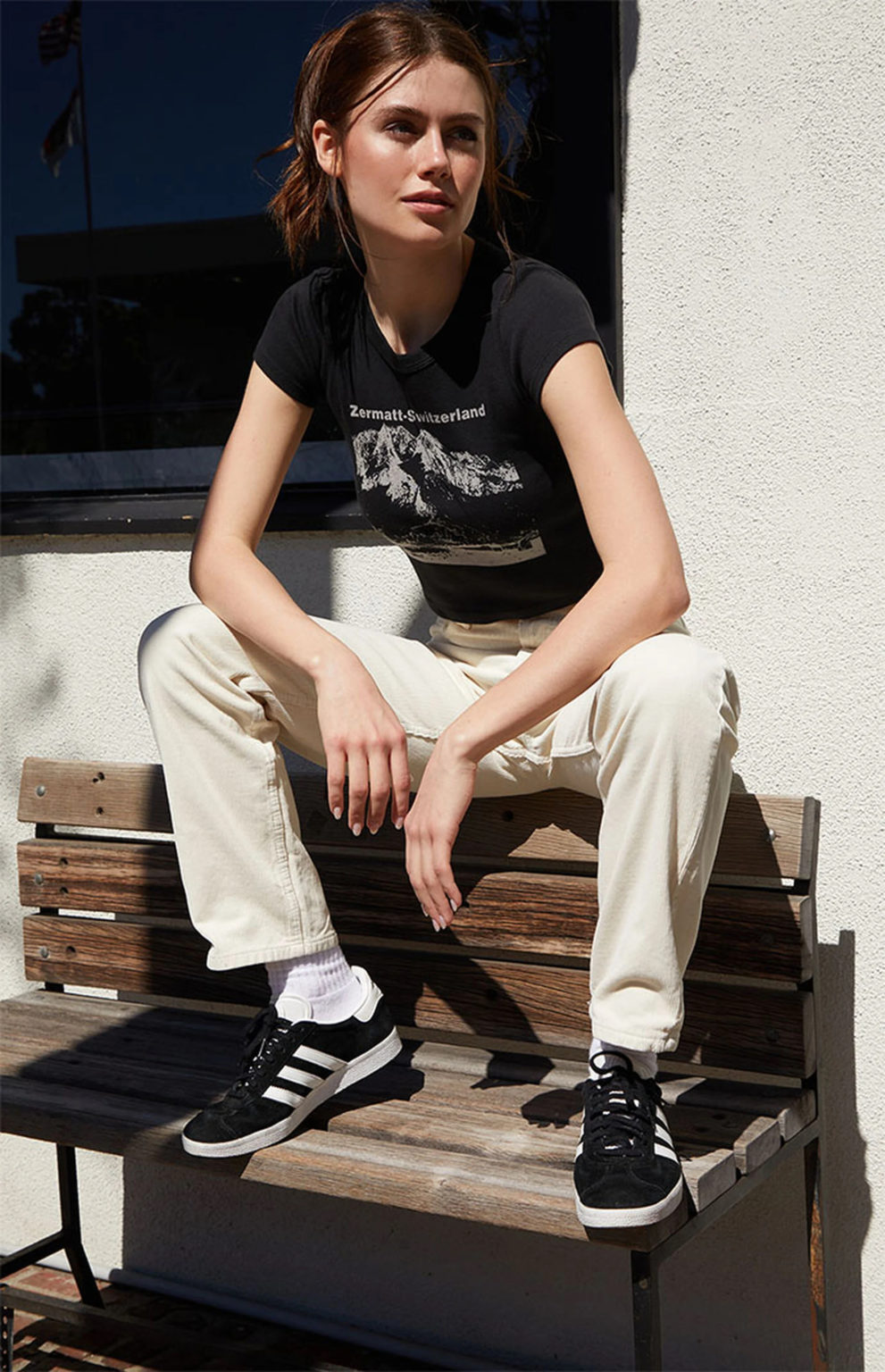 A graphic print t-shirt can be a fun way to make a statement at school, whether by showing off your favorite musicians or locations—this tee says "Switzerland" on it. Paired with some straight-leg corduroy pants and lifestyle sneakers, this outfit is giving major cool-girl vibes.
Of course, feel free to swap out the cords for a pair of jeans (though the corduroy adds some texture and overall flair to the look).
Cute Spring Outfit Ideas for Teens
It's finally spring, and if you're anything like me, you're so ready to ditch the winter coats in favor of the hottest spring fashion trends. If you need outfit inspiration for the spring season, check out these cute outfits for teens to wear in spring.
Colorful Crop Top, Jeans & Sneakers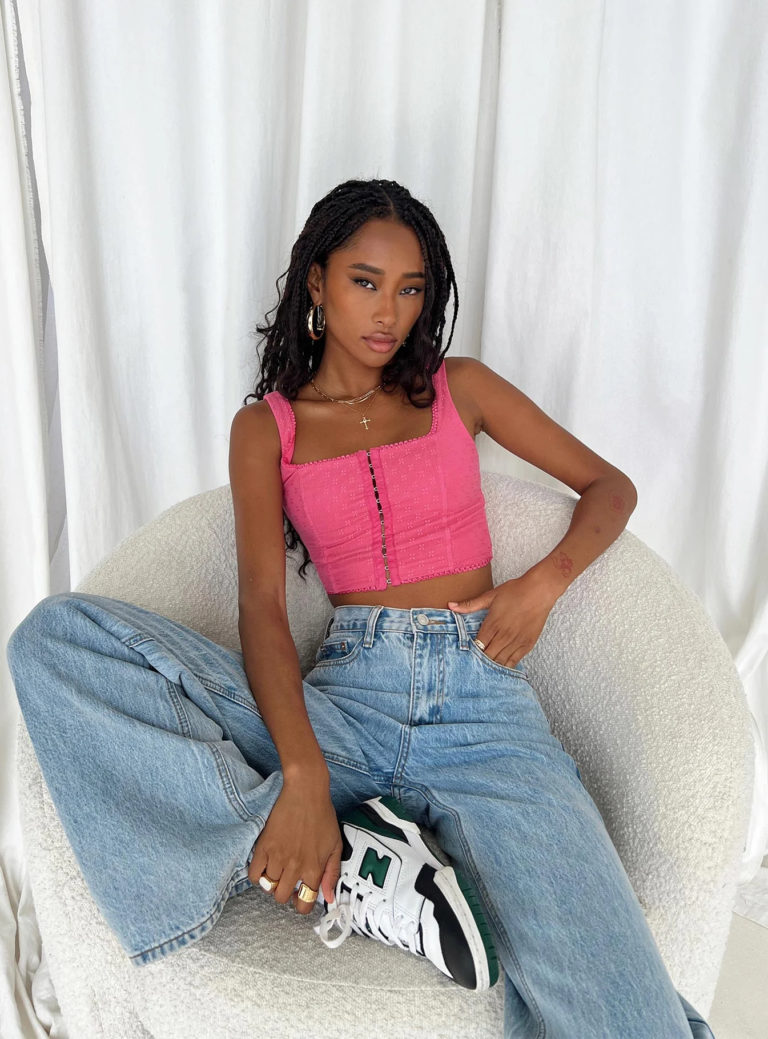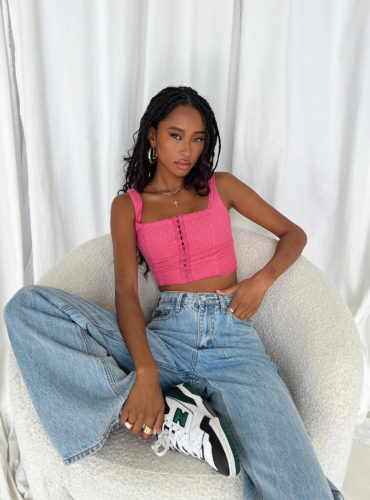 Jeans are still a staple in the springtime, but now you can start wearing them with cute (and cropped) tops. A brightly colored crop top like this pink corset crop top will look amazing with loose-fitting light-wash jeans.
Give the outfit a laid-back feel by wearing it with sneakers (think New Balance sneakers or Nike Dunks) and add in some layered necklaces, rings, and earrings for a put-together vibe.
Onesie Romper, Denim Jacket & Sneakers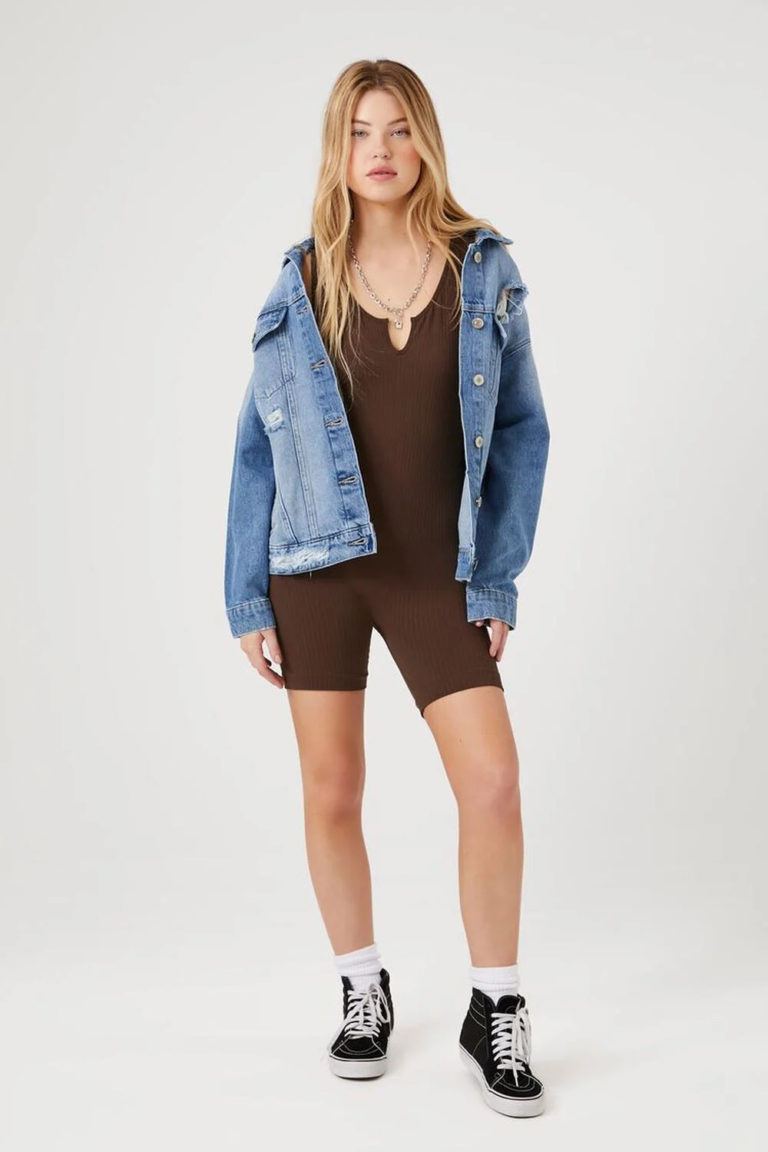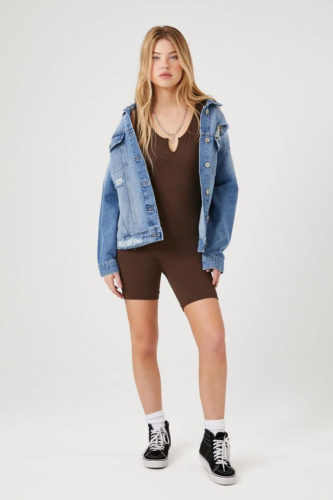 Onesie rompers have become a recent fashion favorite, and for good reason: they make getting dressed a breeze! Throw one on, and you're ready to go—no need to worry about matching a top with bottoms.
A denim jacket is one of the best lightweight layers to wear during the spring, especially one with an oversized fit. By wearing a denim jacket over this ribbed knit tank onesie romper, you'll give it less of an "athleisure" vibe and more of a casual, everyday vibe instead, especially with a cute necklace and some casual sneakers.
If you want to go the athleisure route, style it with an oversized hoodie, baseball hat, and running sneakers for another springtime look.
Cargo Pants & Crochet Top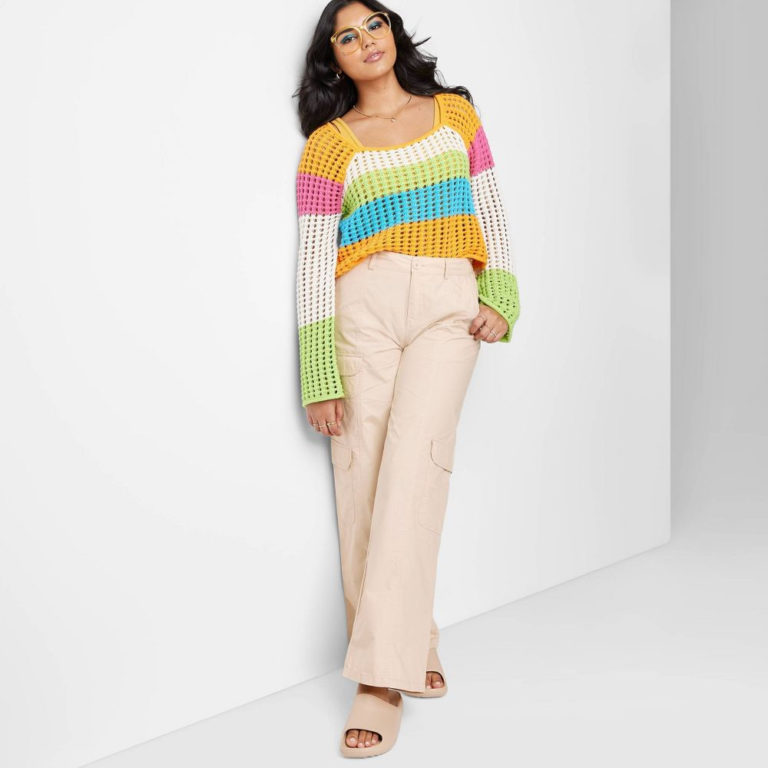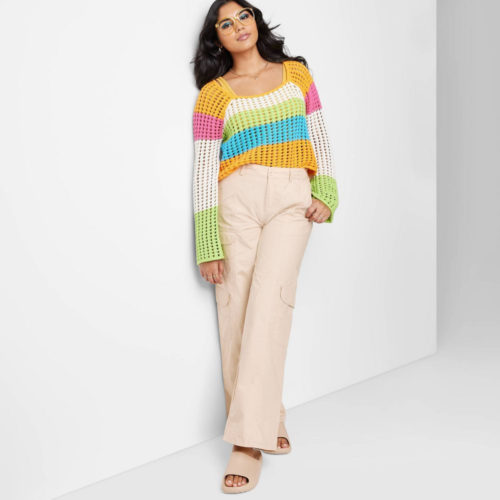 Two big trends this spring season are cargo pants and anything crochetso why not wear them together for a cute spring ensemble?
Opt for light and bright colors to make the outfit feel more seasonal; these light beige cargo pants will match most of your wardrobe, while the colorful crochet top is fun and eye-catching. Complete the look with slide sandals or sneakers.
Shacket, Denim Shorts & Sandals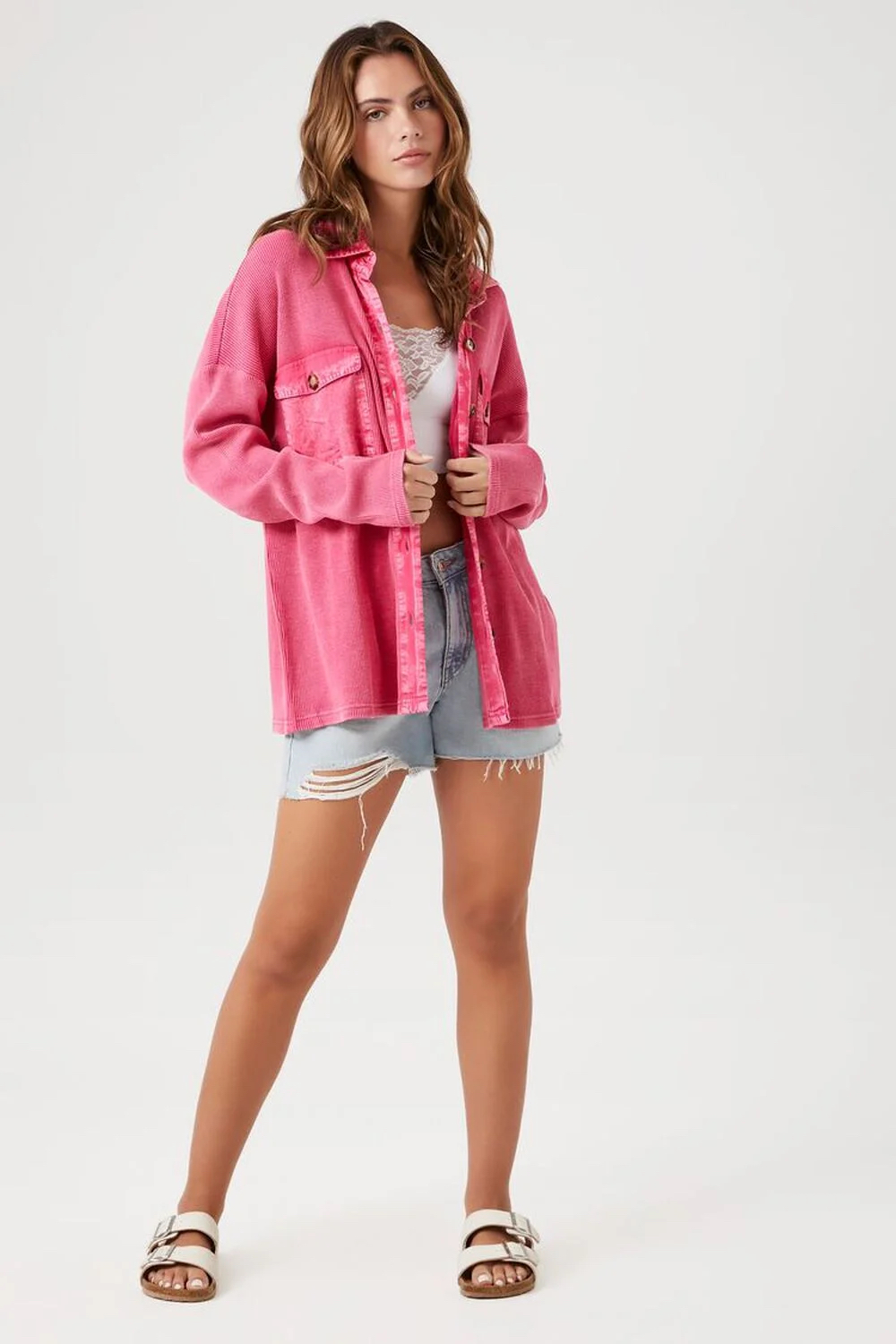 A pink shacket feels bright and fresh for the spring season, while also being a great lightweight layer. And if you can't wait to break out your denim shorts before the summertime, a shacket is the perfect way to wear them sooner in the spring!
The shacket will give you just the right amount of warmth while matching the laid-back vibe of the denim shorts. Underneath, you can wear anything from a crop top to a graphic print t-shirt. Bring the look together with some flat sandals like Birkenstocks.
Summer Outfit Ideas for Teens
Summer is just around the corner, and I don't know about you, but I can't wait! There's so much to look forward to, from days at the beach or pool, to backyard BBQs.
These cute summer outfits for teens will be perfect for the summertime and all the fun, carefree days ahead.
Floral Print Dress & Sneakers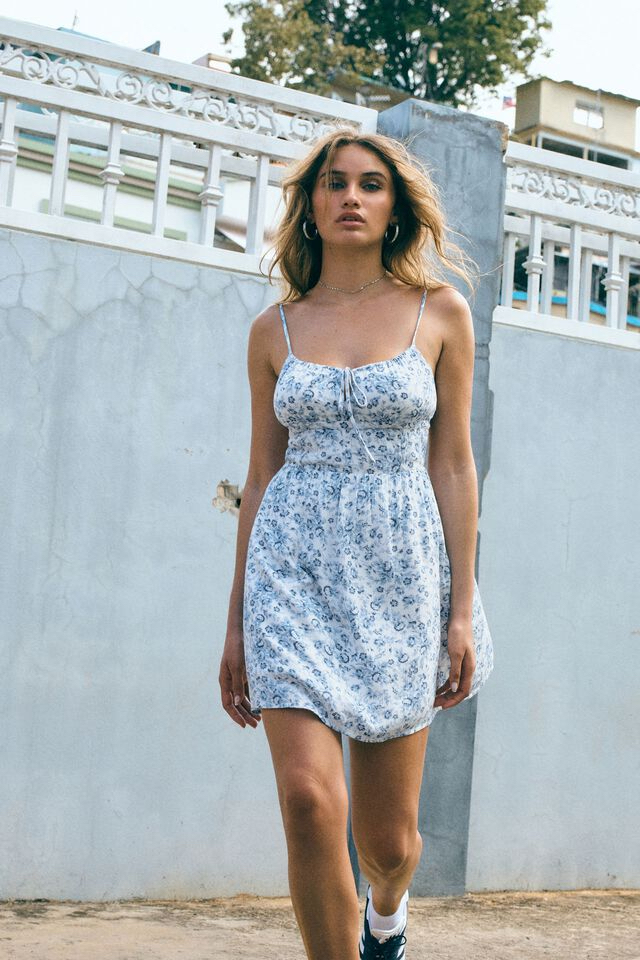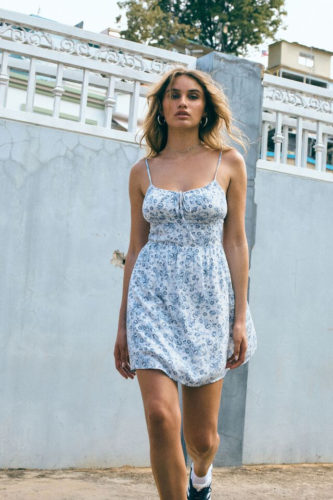 Floral print dresses are a classic for the summertime, and this one has a girly vibe with a gathered bust and open cage-back design.
While you can totally go the feminine route and style it with some cute sandals, you can also give it a more casual look by wearing the dress with sneakers and crew socks (one of this season's big trends).
Graphic Print T-Shirts & Denim Shorts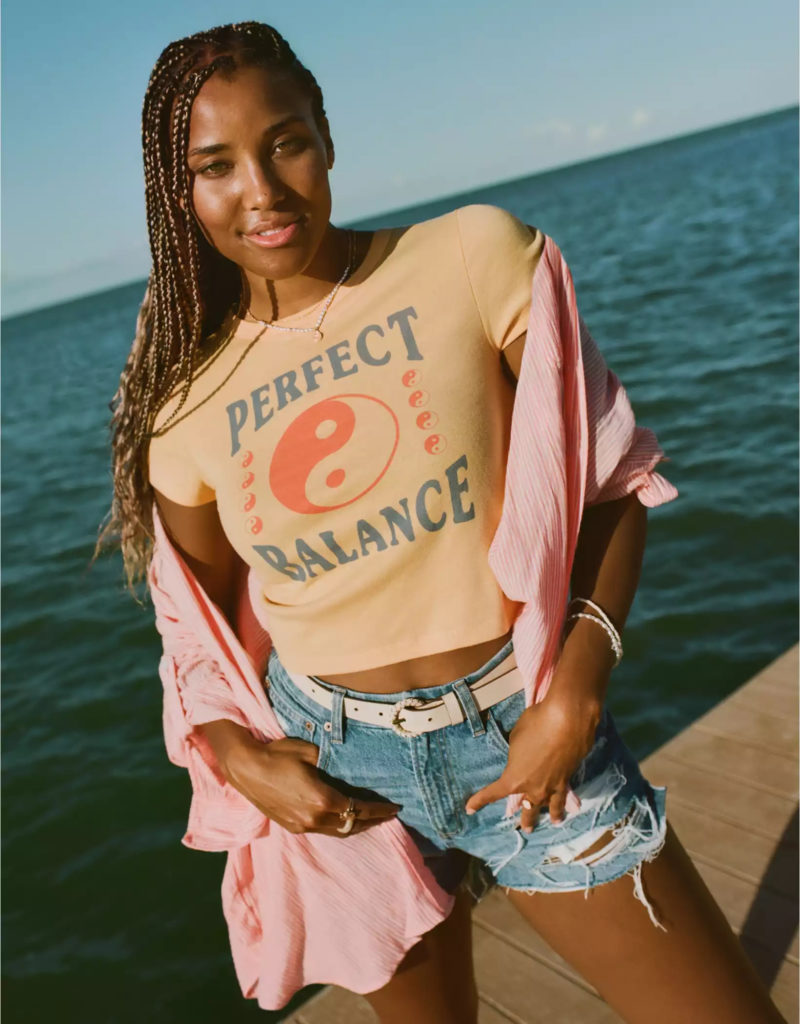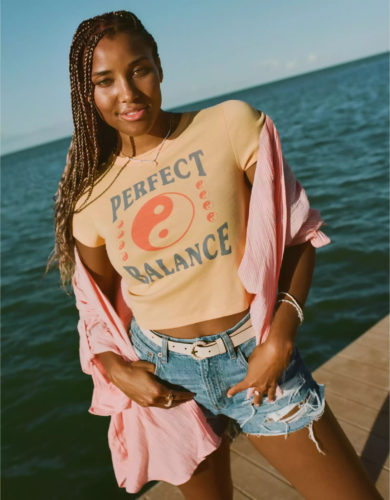 Jean shorts are going to be your BFF in the summertime. There are a million ways to style them, but you can never go wrong by wearing them with an eye-catching graphic print t-shirt.
Add in some cute accessories like a necklace, bracelet, belt, and sunglasses to add to this easy outfit combination. You can also wear a lightweight cotton or linen shirt over the top (these are especially great on summer nights when it gets a bit breezy).
Floral Print Skirt, Crochet Top & Sandals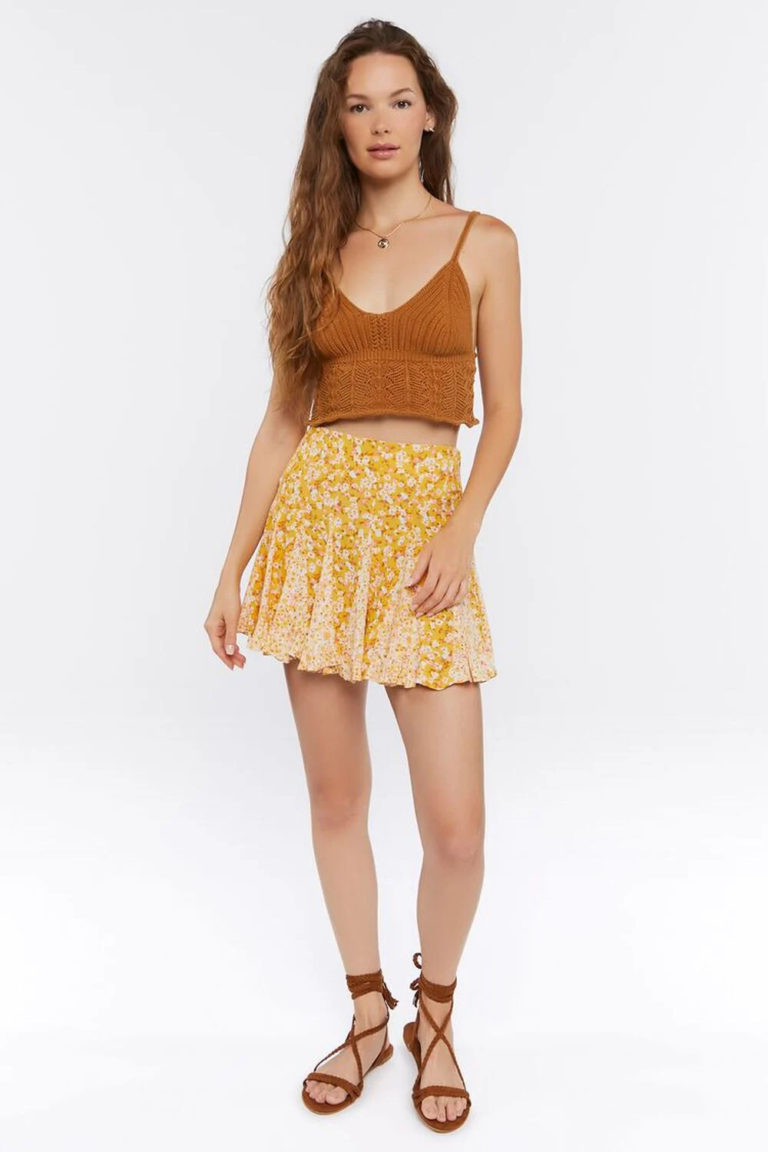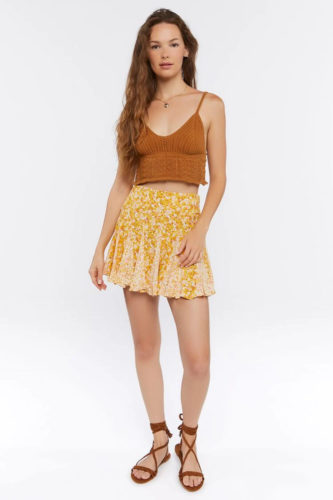 Why not try a boho-inspired look this summer by wearing a floral print mini skirt paired with a crochet top and flat sandals?
The A-line silhouette of this mini skirt gives it a flowy look while also being lightweight and airy—perfect for a hot summer day (or night). As mentioned before, crochet is a big trend right now, and it gives the skirt a boho feel, especially with some lace-up flat sandals.
Denim Short Overalls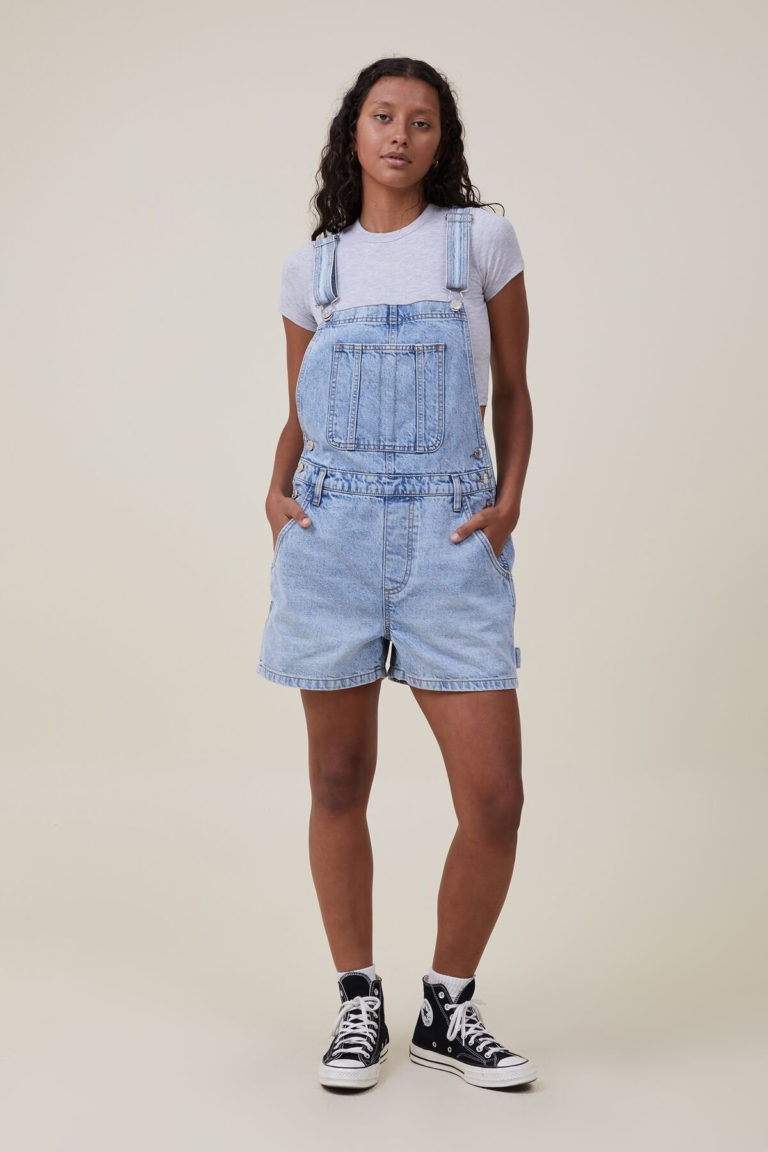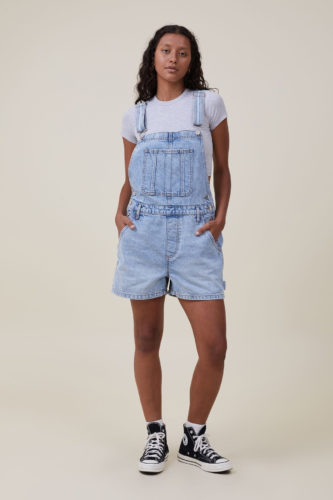 Overalls have made a total comeback, and they are such a fun alternative to regular denim shorts during the summer.
Go for an easy, laid-back look by wearing short denim overalls with a t-shirt and sneakers or sandals; you can also wear them over a bikini as a unique cover-up or with a crop top and sandals throughout the summer.
Warm Fall Outfit Ideas for Teens
Nothing is worse than dressing for chilly mornings but sweating by the time your lunch break rolls around! That's often how it goes in the early fall, when the daytime temperature is still warm.
If you're looking for outfits to wear during the transition from summer to falltry the following looks.
Pro tip: the key is layering!
Midi Skirt, Hoodie & Combat Boots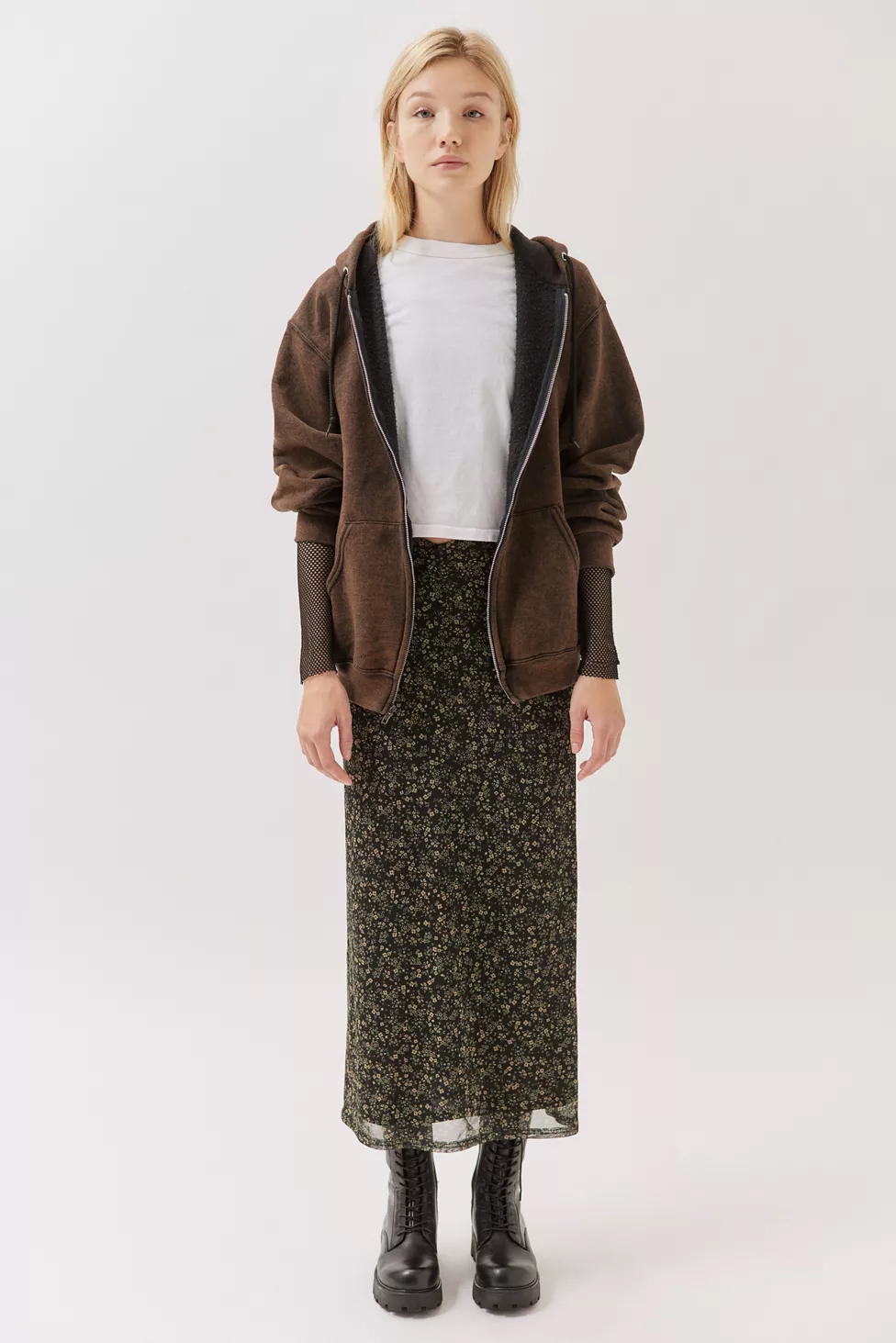 Midi skirts are surprisingly versatile: you can wear them low-key all year round, depending on how you style them!
For early fall, try wearing a dark floral print midi skirt with a basic t-shirt, lace-up combat boots, and a hoodie over the top. You'll easily be able to stash the hoodie in your bag or locker if/when you get hot later in the day, but it's perfect for those chilly early mornings. It also makes the outfit less "fancy" for school, along with combat boots that add an edge.
Shacket, Jeans & Sneakers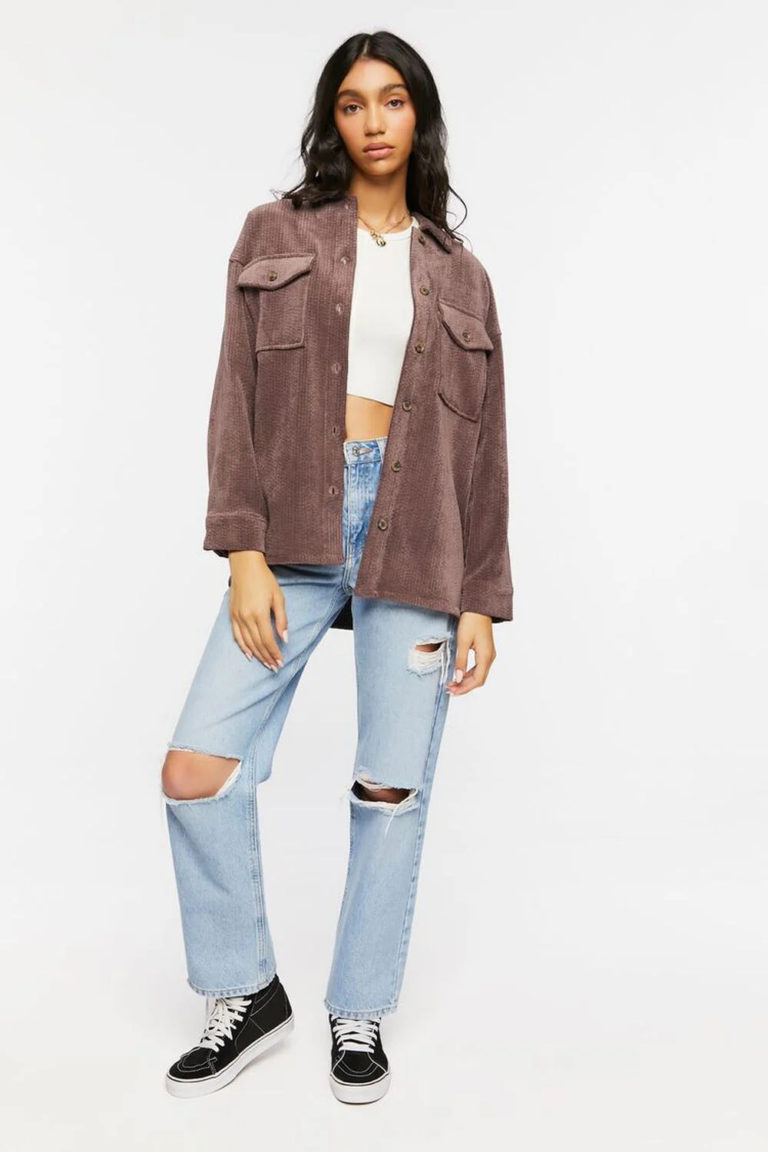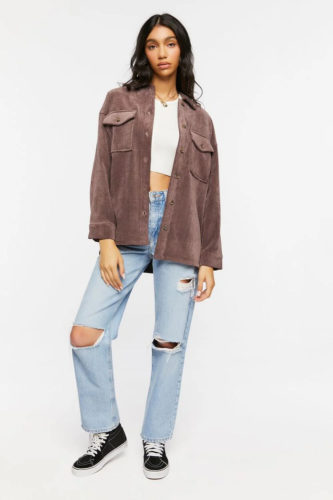 Shackets are the perfect outerwear option for the early fall, providing just the right amount of warmth while still being lightweight. You can throw this textured shacket on over jeans, shorts, skirts, and even leggings, since it has a high-low hem that gives you extra coverage on the back.
For a put-together look, wear it over a white t-shirt with layered necklaces, plus straight-leg jeans and either sneakers or chunky boots. If it's a really warm day, swap out the jeans for some denim shorts instead!
Faux Leather Jacket, Plaid Pants & Boots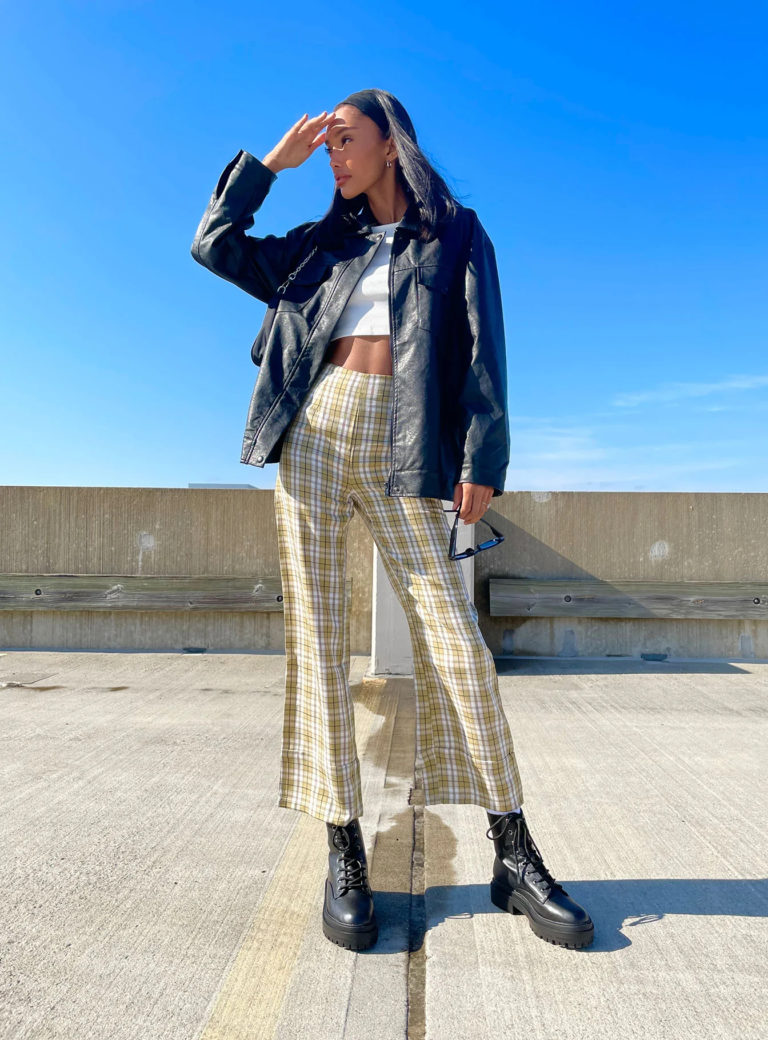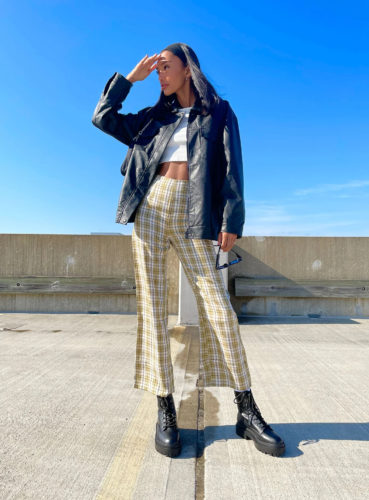 A faux leather jacket is a wardrobe must-have that is going to add a cool, stylish edge to your outfits. It's not too heavy, making it ideal for the early fall.
There are tons of ways to wear this versatile piece, but one stylish option is to wear it with plaid pants, a t-shirt or crop top, and lace-up combat boots. The plaid print gives the faux leather jacket a fall feel, while the combat boots add an edgy aesthetic. Try accessorizing with a stretchy headband too, since these are a big trend right now.
Flannel Shirts & Jeans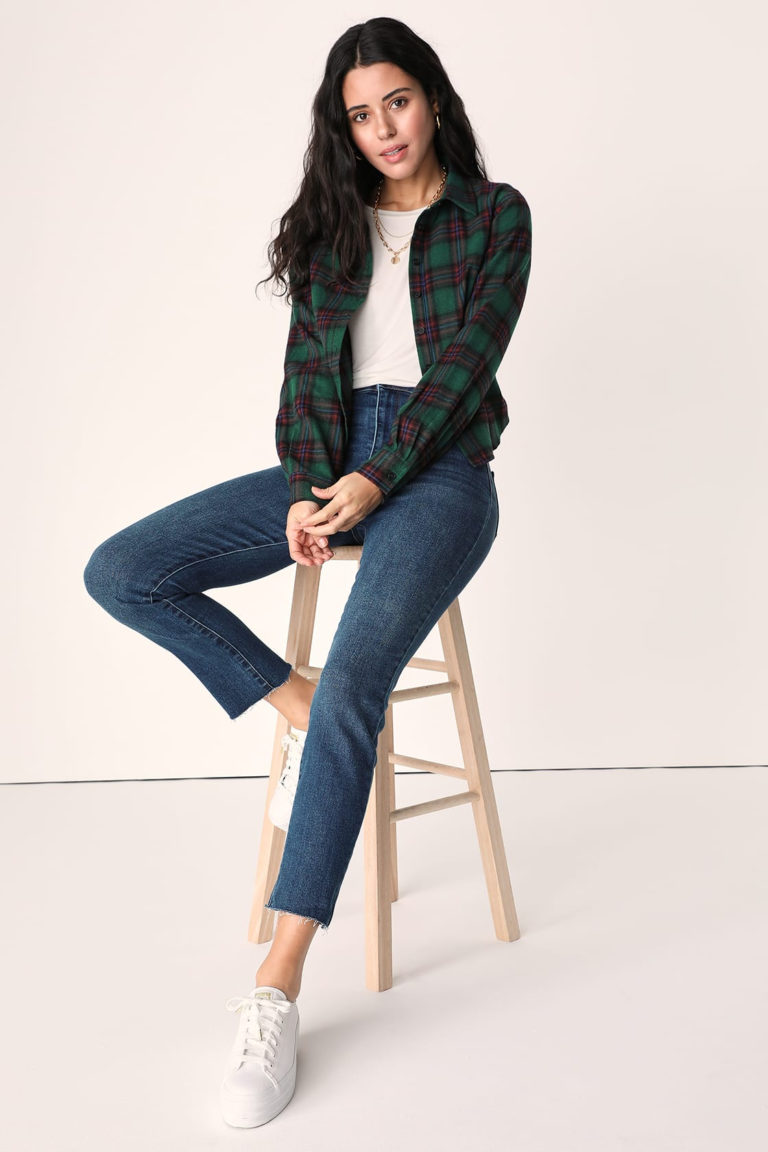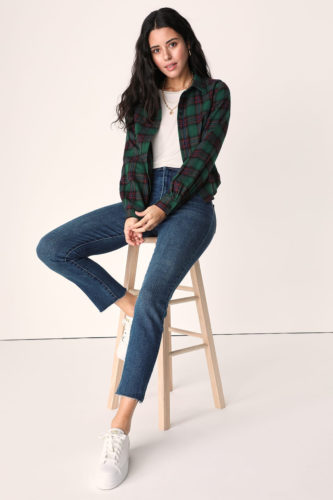 Plaid flannel shirts go hand-in-hand with the fall season! And this is not only because they look cute and seasonal but also because flannel as a material has more "weight" to it than fabrics like cotton. If it's not quite a sweater weather yet, opt for a plaid flannel shirt instead.
I love the dark green color palette of this flannel shirt, plus its cropped length, which makes it more trendy and modern. Wear it on its own or layered over a t-shirt (so that you can tie it around your waist later if the temperature rises) with a necklace or two.
Complete the look with the jeans of your choice, plus sneakers or ankle boots.
What do you think of our cute outfits for teens?
Would you wear these outfits? Which outfit is your favorite? Leave a comment and let us know!