This post may contain affiliate links, which means we may receive a commission if you purchase through our links. Please read our full disclosure here.
This post will show you 11 cute summer outfit ideas perfect for college students, with everything under $100.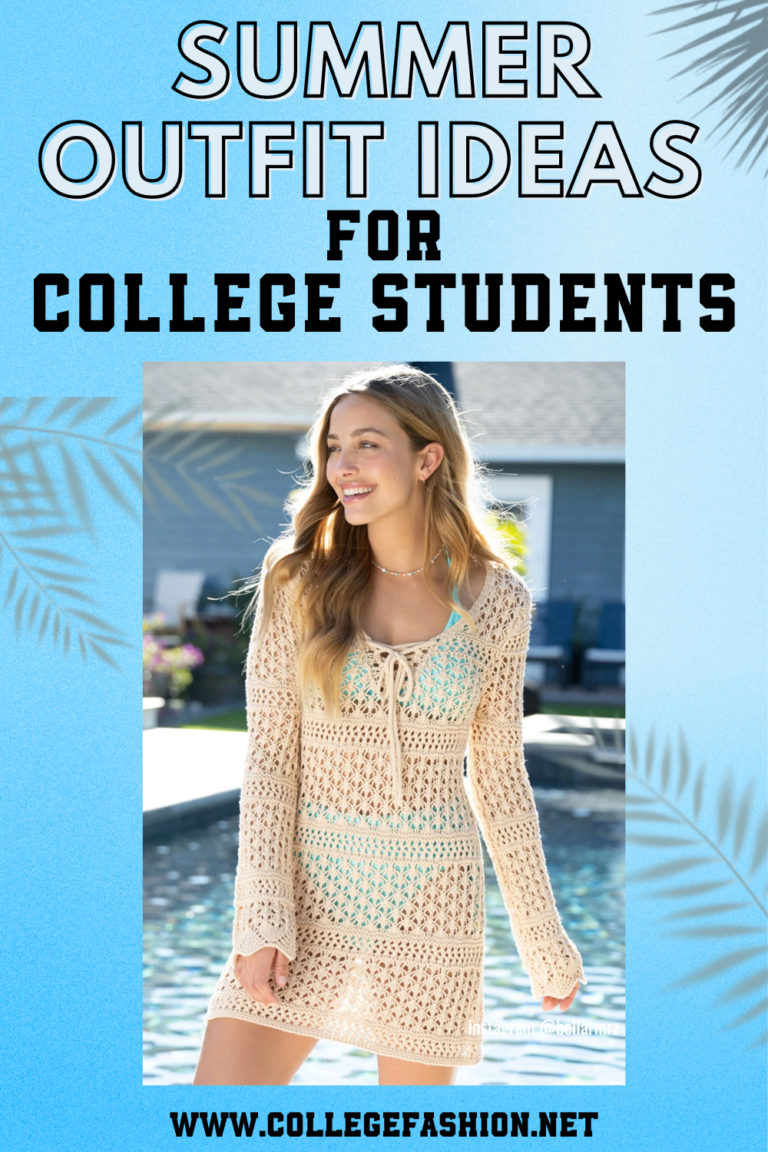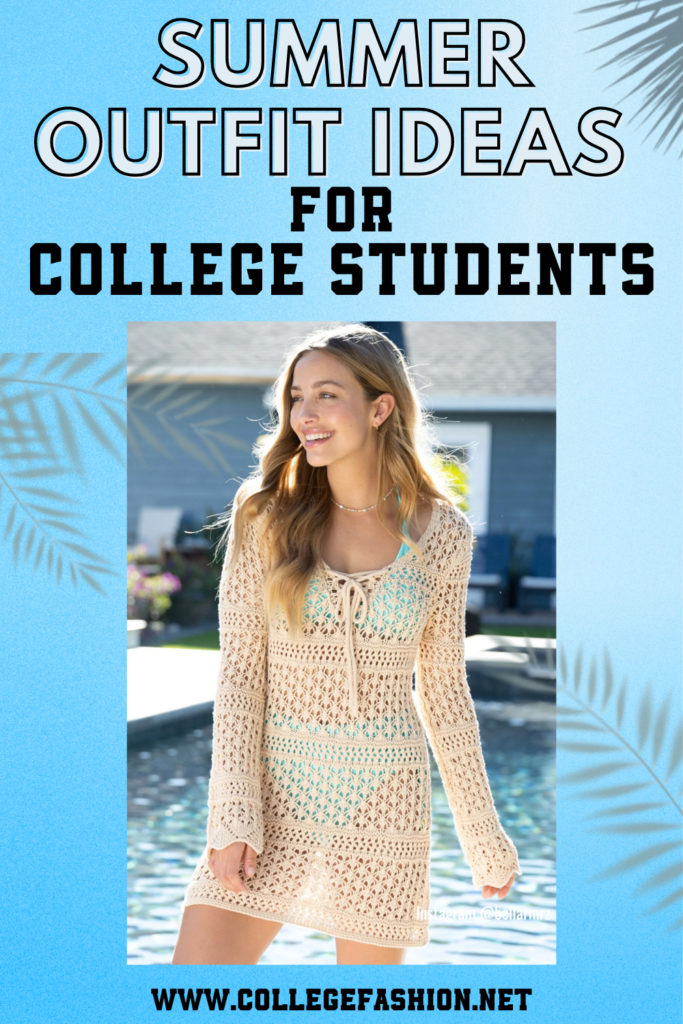 Who else is stoked for summer?! From beach days to concerts and everything in between, the summertime is brimming with fun events and (hopefully) sunny days that are going to require some seriously cute outfits.
Consider this your go-to summer college outfits guidewith 11 outfit ideas perfect for college students. (And even if you're stuck attending summer school, I've got you covered with an outfit for that.)
Best of all, every item featured is under $100, aka you won't have to worry about breaking the bank to dress well this summer. So, read on and get inspired for a stylish summer ahead!
Coastal Cowgirl Summer Outfit
One of the hottest trends this summer is the "Coastal Cowgirl" aesthetics, which is all about wearing beachy-meets-Western-inspired clothes. Remember the "Coastal Grandmother" aesthetic, which was extremely popular last year? Take those breezy, lightweight pieces of clothing and style them with cowboy boots and/or cowboy hats for the Coastal Cowgirl effect.
One cute and easy Coastal Cowgirl outfit idea for summer is to pair a flowy slip dress with some girly cowboy boots—this off-white pair of boots is studded and has a small heel. Any dress with a breezy silhouette and airy fabric works, but I especially adore the polka dot pattern and delicate lace trim on this trapeze slip dress.
Accessorize with a chunky silver chain necklace featuring an oversized heart pendant You raffia cowboy hatwhich perfectly captures the beachy, Western vibe we're going for.
Summer Vacation Outfit
Got vacation plans this summer? You can't go wrong with a crop top and maxi skirt sets; sets make getting dressed a breeze and make you look incredibly put-together. They can also be worn with other items in your suitcase (or wardrobe, in general), making them ultra-versatile, as well.
This white cropped tube top and maxi skirt set features a stretchy crinkled material that is lightweight enough for hot weather, and you won't have to worry about it getting wrinkled when packing it in your suitcase. Wearing all white also feels particularly fresh for the summer, but FYI, the set is also available in gray and beige.
You can wear it during the day with flat sandals or low-top sneakers and at night with heeled jute sandals—I'd advise against packing ultra-high heels or stilettos on vacation. Opt for a short block heels instead; you'll be much more comfortable!
A rattan straw handbag will match the summery vibe of the sandals, and a gold layered necklace will add a touch of glam to this summer look.
Related reading: Our All-Time Cutest Go-to Outfits for Summer Vacation
Summer Concert Outfit
Summer concerts just a different hit, so if you'll be attending one, you'll obviously need an extra cute 'fit.
Why not be a little *extra* and wear this low-rise silver sequin mini skirt that has gone viral on Instagram? A concert (especially one like Taylor Swift or Beyoncé) calls for a fabulous outfit, and you can get away by going over-the-top with your look.
Put on your dancing shoes—a pair of white faux leather cowboy boots with Western-inspired embroidery, duh— and a top that balances out the skirt. this white tee looks simple enough from the front but has a trendy open-back that makes it concert-worthy.
Play on the skirt's silver sequins with a pair of sculptures silver twist link hoop earringsand stash your belongings in a clear crossbody bag that is stage-approved and features a silver chain strap.
Related reading: What to Wear to Taylor Swift's The Eras Tour
Summer Music Festival Outfit
Summer is also a prime time for outdoor music festivalswhich call for a different type of outfit than your standard concert.
Embrace this season's crochet trend and go for a boho look with a coordinating crochet top and skirt (which, BTW, can also be worn as a beach cover-up). the beige crochet mini skirt and corset-inspired crochet top with a lace-up back are both lightweight enough for dancing around in a crowd.
You'll want to wear some sturdy footwear if you'll be outdoors and standing/dancing for hours, so consider a pair of comfortable footbed sandals with a durable rubber outsole and velcro straps to keep your feet secure. These sandals have a slight platform which is actually ideal: they'll give you a slight boost so that you aren't sinking into the ground.
Be sure to accessorize with some eye-catching pieces like a cord pendant necklace and some fun hair rings with charms that will help you create the coolest hairstyle.
Related reading: The Ultimate Guide to Summer Music Festivals (What to Wear & Bring)
Summer Beach/Pool Outfit
Hopefully, you'll get to spend some time at the beach and/or pool this summer—it is the season for that, after all! Whether you're going away on vacation or hitting your local swimming pool, you'll want to look stylish as you soak up those sun rays (while wearing SPF, of course).
As I mentioned, crochet is having a major fashion moment this summer, and it happens to make for the cutest swimsuit cover-up material. this crochet cover-up dress is a great option, featuring lace-up detailing at the front and a neutral hue that works with any color swimsuit.
If you wear a brightly colored bathing suit, like this turquoise triangle bikini top and bottomit'll peek out of the open-knit design for a fun effect.
Don't forget some waterproof sandals (this pair is non-slip and matches the dress perfectly) and trendy sunglasses for a put-together look.
Summer College Outfit for School
If you're taking summer classesyou may not be thrilled at the idea of ​​attending school instead of say, sitting on a beach. Make the most of it, though, with a practical yet cute athleisure-inspired look that is ideal for walking around the campus comfortably.
I know what you might be thinking: a dress to class? No thanks! But this isn't your typical summer dress. It's an activewear dress with built-in shorts (plus side pockets!) that will keep you cool on your potentially long walks to class. Wear it with some comfy sneakers and a matching baseball cap to shield your face from the sun.
Even if it's sweltering hot outside, I suggest throwing a lightweight zip-up jacket in your Backpack because classrooms always tend to have AC blasting. This sleek jacket is sweat-wicking and made with an activewear fabric that pairs well with the dress.
Effortless Summer Outfit
Flowy white linen pants are a total summer must-have: they look polished yet effortless and are practically as comfy as sweatpants!
They are perfect for everything from a nice dinner out to running errands to getting brunch with your friends, as well as being a vacation staple pieces.
There are tons of ways you can style white linen pants, but a no-fail outfit formula for the summer is pairing them with a cute top. this green strapless split-front top is going to pop against the white and will show off your tan in a major way.
Keep the outfit looking laid back with some chic yet easy white slide sandals featuring a geometric cut-out detail, and playing up the outfit's green color palette with a green straw clutch bag that gives off total summer vibes.
Athletic Summer Outfit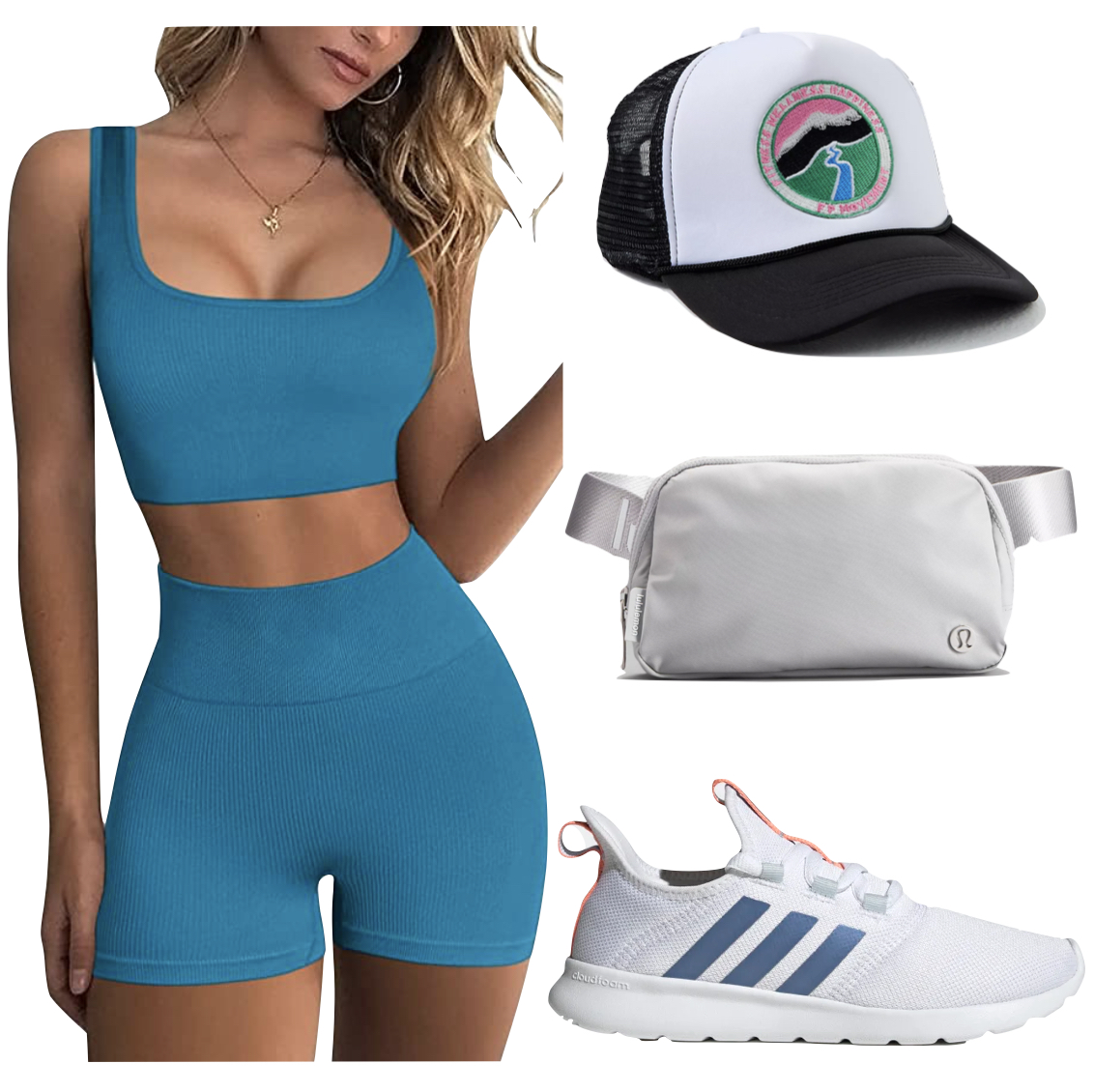 Products: Tank and Shorts Set, Hat, Belt Bag, Sneakers
If you've got Hot Girl Walks or gym sessions on your summer agenda, there's no reason you still can't look cute and put-together as you get your sweat on. In fact, I feel like I always am more motivated to work out when I'm wearing a coordinated athletic set rather than baggy old sweats.
Since it is summertime, opt for a brightly-colored workout set in a sweat-wicking material like this seamless ribbed tank top and high-waisted shorts setwhich comes in over 20 different hues.
Wear it with your athletic sneakers and a lightweight trucker hat featuring an outdoorsy logoalong with a belt bag worn crossbody-style (the ultimate HGW accessory).
Casual Cute Summer Outfit
Whether you're sightseeing somewhere new or hanging out in your own hometown this summer, you'll need a cute, casual outfit to wear that looks effortless but shows off your fashion sense.
As I mentioned earlier, maxi skirts are having their moment this summer, especially flowy white tiered maxi skirts. (These are also great for achieving the Coastal Cowgirl aesthetic when paired with cowboy boots.)
A skirt like this is perfect for a hot summer day; give it a laid-back vibe by wearing it with some cool low-top sneakers, like a pair of Adidas Gazelles or Sambas. Flat sandals work too, but sneakers give the ensemble a street-style edge and add contrast to a girly floral print tank top with delicate lace trim.
Amp up the look with on-trend accessories like a printed head scarf You layered gold chain necklace.
Summer Dinner Outfit
Who doesn't enjoy dressing up a bit to enjoy an al fresco dinner out on a nice summer evening? This is your chance to pull out a chic summer dresses and heels, eat a yummy meal… and maybe get some outfit snaps for your feed while you're at it.
There are plenty of summer dresses to choose from, but I love this babydoll silhouette puff sleeve mini dress has, along with its bold green hue that feels fresh. It is also made with a poplin fabric that is lightweight yet looks luxe.
Wear it with some neutral-colored heeled sandals—these braided mules are so versatile they'll pair well with almost anything else in your summer wardrobe.
Elevate the ensemble with stylish accessories like some chunky gold hoop earrings and a white bag in a woven material for an added summery touch.
4th of July Summer Outfit
Independence Day isn't very far away—the Fourth of July is just around the corner, so it's time to start planning a festive red, white, and blue outfit for BBQing, fireworks, and partying.
You can never go wrong with some high-waisted denim shorts on July 4th, especially when worn with a crop top or bodysuit, plus sneakers.
this knit crop top features a red, white, and blue color palette that is perfect for Independence Day but still "fashion-y" enough that you can wear it during the rest of the summer (without looking like a full-on flag). For example, wear it with white linen pants and flat sandals on another summer evening.
For the Fourth though, go all out with a fun stars and stripes hair scrunchie scarf and some white low-top sneakers, which are ideal for backyard hangs. These Nikes have blue accents for an extra-coordinated look, but any white sneakers will do.
Don't forget a trendy retro-inspired pair aviator sunglasses to complete the ensemble.
What do you think of our summer college outfits?
Would you wear these outfits? Which summer outfit is your favorite? Leave a comment and let us know!